Expo 2015 in english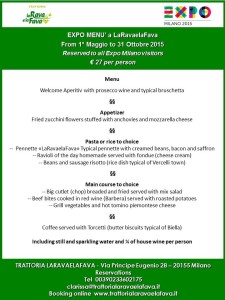 Trattoria LaRavaelaFava – Milano – Founded already in the postwar period, the restaurant "LaRavaelaFava", Via Principe Eugenio 28 in Milan, is now offering a successful selection of the most typical dishes of Piedmont cuisine. You start with an aperitif of sparkling wine and bruschetta and continue with the typical panissa Vercelli, made strictly with Carnaroli rice, red beans of Saluggia and salamino in fat stored in the containers duja. The second course is for the palate "connoisseur": fried mixed Piedmont, trio of boiled with Bagnet (green or red), Strips of beef at "Cortese" and Entrecote to Barbera of Monferrato. In homage to the name of the place, the choice of dishes of beans is just as rich and ranges from penne with meatballs fave "The Rava and Fava" and the delicate bean cream semifreddo with croutons. Every Thursday in the table comes fresh pasta made by hand by the friendly owner: famous tajarin (noodles) of the house, served with truffle butter or trio of cheeses from Piedmont (Bra, Castelmagno and Raschera) and very special ravioli of "Plin". Do not you get up from the table without having first tasted the delicious dessert offering "a la manera mè" as bunet, tiramisu or coconut and pistachio cake rustic peach Moscato d'Asti and amaretti of Cuneo. Adequate wine list that offers prestigious Piedmontese wines and, very rare thing, a bulk wine doc Cantina social Rosignano Monferrato (Piedmont Cortese and Barbera del Monferrato). The local, small and comfortable, also has a lovely garden ideal for summer. Open every day, the restaurant "LaRavaelaFava" offers the opportunity to savor the precious flavors of Piedmont than once. In the middle of Milan.
Booking is recommended.